Get To Know Your WSCC Chamber Membership
The Western St. Charles County Chamber of Commerce as many events, programs, and committee's that are here to help expand your reach, improve your business, and impact your community. 
Wondering how to get the most out of your WSCC Chamber membership? Join us, Chamber Ambassadors, and Board Members to learn how to Amp Up Your Membership! During this event, we run through the monthly and annual events, Chamber benefits, committees, and programs available to help you be fully engaged and aware of everything their WSCC membership has to offer. ALL MEMBERS ARE WELCOMED, new and old. 
Continued Business Education
45% of businesses fail within the first year. Why? Because they get bogged down in the day-to-day, get burned out, and struggle to find time to work on their business. Our Continued Business Education Seminars provides business and individual growth-related instruction, which can be applied to your business and everyday life. Whether you are starting a new business, happy where you are at, or expanding a current venture, these seminars will provide the right tools to get your business going in the right direction.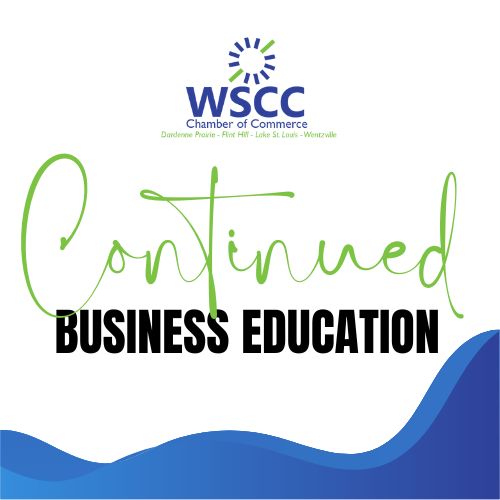 The Celebration Ball is an Annual WSCC Chamber Event that occurs sometime in February. This event celebrates one year coming to an end and the beginning of a new year together. While each year has its ups and downs, the WSCC Chamber is thrilled to have the opportunity to acknowledge everyone's extraordinary efforts. We recognize a few outstanding businesses and individuals at this event who are nominated and voted on by fellow WSCC members for their contributions to the community and the Chamber from the previous calendar year. The WSCC Chamber is grateful to our wonderful members for helping us grow and succeed each year. 
The WSCC Chamber is proud to present you with our Annual Murder Mystery Dinner Theater! Will you be able to solve it? 
Tickets are $35 per person for this event is a two-night event. Seating is limited, so act fast! Your tickets include dinner, drinks, dessert all with a side of deadly humor. Purchase at your own risk! To make it ironic, this event is normally held at Pitman Reception Center in Wentzville.
The WSCC Chamber, Wentzville Fire Protection District, Wentzville Parks & Rec Department, and The St. Louis Renaissance Festival are thrilled host the Annual End of Summer Bash. Together with various other vendors and sponsors, we host a FREE event for our community where we will donate a variety of over 8,000 school supplies along with gifts for teachers. There will also be food, drinks, music, and a whole lot of fun! This is one of our largest community outreach events of the year.
General Membership Meeting
The WSCC Chamber General Membership Meetings occur on the 2nd Thursday of every month. The doors open at 11:15 AM, and the Program runs from 12:00 – 1:00 PM. The location and caterer change each month. Registration starts at 11:15 AM -12:00 PM, where members are welcome to network and get their lunches. From 12:00 – 1:00 PM, is the program where members get to hear from the Sponsor of the Month, Charity of the Month, and Community Spotlight along with WSCC Chamber updates. It's always a great time when the WSCC Chamber Family can get together.
The WSCC Chamber's Annual Golf Tournament occurs sometime in May at Incline Village Golf Course in Foristell. It is a 6,008 yards, 18-hole course that challenges all who come to play. There are various Event Sponsorship available along with a Teams (4-player scramble). Breakfast, Lunch, drinks, raffles, giveaways, and more are provided along with refreshments at different holes from the Super Tee Box Sponsors and Mobile Tee Box Sponsors. Are you ready for a TEE-rific day of golfing? 
WSCC Chamber Happy Hour is a bi-monthly event that occurs on a Monday or Tuesday, generally from 4:00 – 6:00 PM. Happy Hours are a great opportunity for the Chamber to highlight local restaurants and provide the WSCC membership with a friendly, casual networking night. The WSCC Chamber's goal with the Happy Hour event is to provide a networking opportunity for members that cannot get away during the day. There is no attendance cost; the only cost associated with this event is the drinks and/or appetizers members get. 
Legislative Lunch occurs bi-monthly at Stone Summit Steak & Seafood or Sugarfire (Wentzville) from 12:00 – 1:00 PM. This event helps our members stay involved and up-to-date with what is going on in their community. We host a variety of speakers from state and local representatives to our cities mayors'. They provide our members with current information along with upcoming initiatives and events.
The WSCC Chamber loves our members, and every year we pick a day to celebrate them with an appreciation party! We like to thank our members for the time, energy, and experience they bring to the Chamber. It is because of the WSCC members' dedication and continued support that we are able to be successful. This event is a fun night out with a good time guaranteed. 
Morning Meet-Ups occur on the last Friday of each month from 8:30 – 9:30 AM at various locations. Except for November and December, where the event occurs the first Friday due to the holidays. The WSCC Chamber uses our Morning Meet-Ups as a way to highlight one of our member's businesses each month, along with providing a networking opportunity to those who attend. There is always coffee and a light breakfast provided by the host. 
Join us in enjoying the magic of the movies! Movie Nights with WSCC occurs on Thursday before the movie is set to be released to the public. Tickets will be available through the WSCC Chamber office at a lower price. The Chamber rents out a theater, so it will only be WSCC members and their guests in the theater. This event is a fun night out with fellow members, friends, and family. 
Ribbon Cuttings can be for more than just a business opening; the WSCC Chamber would like to help your business celebrate your business anniversary, grand-reopening, etc. with a Ribbon Cutting. The WSCC Chamber tries to hold Ribbon Cutting on a weekday anytime between 11:00 AM to 1:00 PM, but it can be held at a most convenient time for the business. This event option is exclusive for WSCC members and it's FREE. 
Don't wait to schedule your Ribbon Cutting Ceremony today by calling the WSCC Chamber office at (636) 327-6914 or emailing Belle Miller at belle@gowscc.com. 
The WSCC Chamber Taste of County event is when our favorite local restaurants and hidden gems get together to feature the best item on their menu. Purchase a ticket for $20 (per person) to get unlimited food and drink samples, along with music and a whole lot of fun! Try a new menu item from a local restaurant you frequent or find your new favorite restaurant. 
The WSCC's Annual Trunk-Or-Treat event is one of our biggest community event we host at B&B Threatre in Wentzville. If you are looking for a FANG-tastic way to promote your business to the community, this is a fa-BOO-las event to be involved in. Businesses can rent a Trunk Space or purchase Event Sponsorships to hand out candy and business information out to the trunk-or-treaters. 
For chambers of commerce across Missouri, the Chamber Benefit Plan has led to increased membership and enhanced what they are already doing: advocating, assisting, and accelerating small businesses. For all the chamber partners, the benefit plan adds significant, tangible value to their membership. In the current climate for small businesses, saving money while providing a benefit to retain employees is invaluable. 
Few Facts About Chamber Insurance Benefit Plans:
MOmewa.com is your portal to the Chamber Benefit Plan. Just submit a census for a free quote
Over 27,000+ participants throughout the state
Administered by Anthem Blue Cross Blue Shield
Competitive, medically underwritten rates
Fixed, predictable monthly payments
A variety of plan designs, including 10 PPO and three HSA options
It is available to small businesses that meet two simple criteria

Are members of a qualifying Chamber of Commerce
Have 2-50 eligible employees
Check out the Chamber Insurance website by clicking on this link: https://chamberbenefitplan.com/
The WSCC Chamber has two representative to contact to learn more information.
Rachel Zimmerman with Zimmerman Benefits
Address: 1314 Jeffco Blvd, Suite 465, Arnold, MO 63010
Phone: (636) 219-1025
Email: rachel@zimmermanbenefits.com 
Barbara Goode with Danny & Associates, Inc.
Address: 1022 Peruque Crossing Ct, Suite B, O'Fallon, MO 63366
Phone: (636) 887-4700
Email: barb@dtdinsurance.com

The WSCC Chamber love to promote our membership in any way we can. One way we would like to do this is help promote our members events to the St. Charles community. Whether it is for a cause, for fun, etc., the WSCC Chamber is here to help. Look what member events are coming up by clicking on the button below. 
The WSCC Chamber wants to help our members spread the word about their businesses. Get cheap billboard advertising at three great locations!
First location is off Hwy 64 & the Winghaven Blvd. exit (right by the movie theater and soccer field) 
Second location is off of Hwy 61 & Wentzville Pkwy
Third location is off of Hwy 40 & Hwy 61
It is $100 per 4-week cycle, spot, and location. There are 13 cycles in a year, and members are able to book a full years worth of billboards. 
Email Blast is a promotion email that the Chamber creates on behalf of a member in good standing and sends out to our WSCC members email list. Typically, it contains texts, graphics, company logo, website link, and contact information – whatever the member sends to us. A test Email Blast will be sent back for approval before sent out. WSCC members can get 3 Email Blast for $75. 
The WSCC Chamber launched our new networking platform for members. Facebook Groups provide a place to connect with members who share a similar business to expand business knowledge, brainstorm ideas, promote events, and so much more. We want to help our members build and develop a community, resources, creativity, and knowledge.
Are you looking for another way to promote job opening? The WSCC Chamber would love to help!  We will post the job opening on our Facebook page and on our website. Send us the position(s) open, job description(s), and any graphics.
Are you interested in growing your networking group, getting more referrals, and keep up-to-date with upcoming WSCC Chamber events? Then join our Leads Group! Only one representative from each industry is allowed in a Leads Group at a time. The WSCC Chamber currently has one Leads Group: Westplex Leads Group. Learn more about each group and what industries are still available by clicking on the buttons below. Members are welcome to try out each leads group to figure out which group best benefits them before officially joining one. 
The WSCC Chamber and LegalShield is partnering up Small Business Legal Plan, Business Plus Supplement, Home Business Supplement, and Trial Defense Supplement. 
The LegalShield Membership Includes: 
Dedicated Law Firm Direct access, no call center
Legal Advice/Consultation on unlimited personal issues
Letters/Calls made on your behalf
Contracts/Documents Reviewed up to 15 pages
Residential Loan Document Assistance for the purchase
of your primary residence
Will Preparation – Living Will, Health Care Power of
Attorney, Financial Power of Attorney
Speeding Ticket Assistance Upload your speeding ticket
from the mobile app directly to law firm
IRS Audit Assistance (begins with the tax return due April
15th of the year you enroll)
Trial Defense (if named defendant/respondent in a covered civil action suit)
Uncontested Divorce, Separation, Adoption and/or
Name Change Representation (available 90 days after
enrollment)
25% Preferred Member Discount (bankruptcy, criminal
charges, DUI, personal injury, etc.)
24/7 Emergency Access for covered situations
WSCC Chamber Sponsorships
Is your business looking for more ways to promote their brand without breaking the bank? The WSCC Chamber has many sponsorship opportunities at all different price ranges that best benefit our members. These sponsorships are promoted to the WSCC membership and the public. We have seasonal sponsorships, event sponsorships, and chamber extras available.
The Ambassadors are the Chamber's premiere volunteer organization composed of high-energy, outgoing, and dynamic business men and women who serve as the goodwill committee. The Ambassadors work together as a team to increase membership retention and to improve awareness of Chamber benefits. Ambassadors also act as a liaisons related to networking/social events sponsored by the Chamber. 
Ambassador Objectives:
To actively promote membership in the WSCC Chamber
To facilitate networking among members
To encourage meaningful participation and involvement in the WSCC Chamber programs in order to enhance the membership benefits received by each member, strengthen member commitment, and increase long term member retention
To contact members as necessary to inform them about upcoming events and/or build connections
The Business Development Committee focuses their efforts on key initiatives to support all forms of businesses in the community.
FUEL St. Charles is a network of young professionals that seeks to promote career opportunities, business development, entertainment, and philanthropic efforts in order to enhance the quality of life in the St. Charles area. You must be a WSCC Chamber member or an employee of a member business between the ages of 18-40 years old to join. 
The Legislative Committee is responsible for keeping WSCC members informed on local and state legislative issues and initiatives that would affect their businesses. They help find speakers for the bi-monthly Legislative Lunches and assist in planning the Chamber Visit Day to Jefferson City to meet with legislators. 
If you would like more information, questions, or to learn how to become involved, reach out to Western St. Charles County Chamber of Commerce at (636) 327-6914 or at belle@gowscc.com.